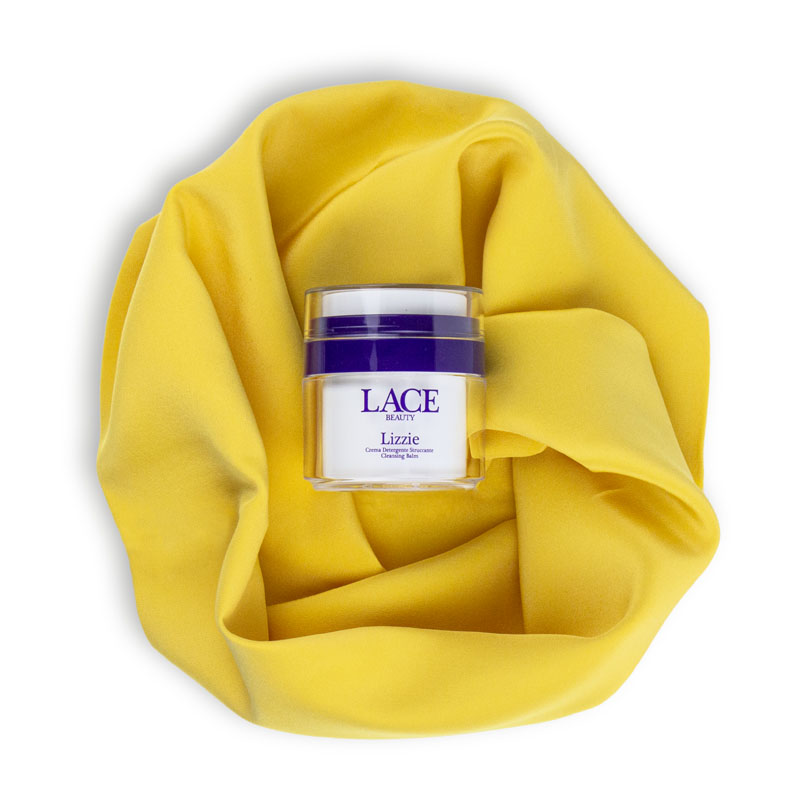 Lizzie wraps herself in silk: here comes Emily!
Categorization: 90×90 cm fine Italian silk scarf.
Source: 100% Made in Italy.
Directions: suitable for all skin types, including the most sensitive, for oncological and dermatology patients.
Colour: patterned or solid colour. Limited edition.
Intended use: to be used as adornment or as head scarf.
InSPIRATION
Following the sophisticated Japanese ritual of wrapping gifts with Furoshiki, the square of fabric used in Japan to wrap objects to be transported and gifted, as of today our Lizzie is on sale in a special version.  She dresses up in a beautiful Italian silk scarf, according to the Maki Tsutsumi technique, specific for cylindrical objects.
Lace Beauty is no stranger to influences coming from the Land of the Rising Sun: the same ritual of cleansing is inspired by that of tea and Asian skin care, without forgetting the many ingredients of Japanese origin that are featured in Lizzie's formula.
For this reason we felt it was the perfect combination to continue to tell our story about cleansing, which is the core of the brand, while maintaining a strong connection with the theme of oncology and environmental sustainability, and supporting women at the same time, with a wink as always at those sumptuous rituals in which we have identified the very essence of our mission: teaching women how to take care of their skin.